Hotel Info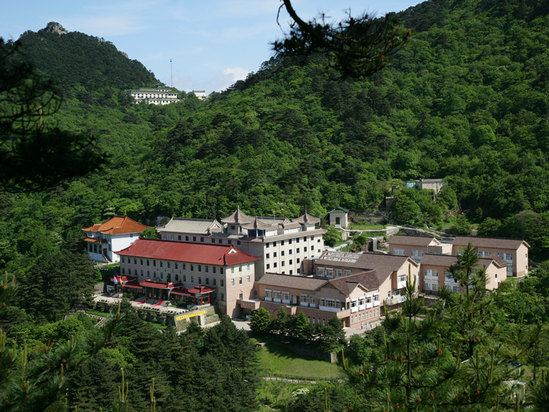 Huangshan Beihai Hotel
is located in Beihai District at 1,630 meters above sea level. 'Beihai's ink clouds are made of paper, and the dream pen is planted in a flower mountain as a basin.' The hotel is located on the back of Gongyang Mountain, the Lion Rock Peak in front, the Shixin Peak on the right, and the Danxia Peak on the left.
Beihai Hotel is the reception unit of Huangshan Scenic Area. After several renovations and expansions, the hotel currently consists of Sanhua Jingshe, main building, Gongyang Villa, Shuguang wooden house, and No. 8 building. There are more than 200 sets of rooms with various room types, which can meet the needs of guests at different consumption levels.
Hotel has two large restaurants, of which the restaurant on the second floor is mainly responsible for a la carte and self-service functions, and the restaurant on the first floor is mainly responsible for team reception, which can accommodate about 500 people dining at the same time. The hotel has 2 large private boxes, which can be placed on long tables to distribute meals. There are five other boxes of different grades, and the round tables can seat 22 people. The hotel's catering is mainly based on authentic Anhui cuisine, using local raw materials from Huangshan to form the special cuisine of Beihai Hotel.
As the main government affairs reception unit in the scenic spot, Nuo Hotel has received many party and state leaders, domestic and foreign political figures and celebrities over the years, and its excellent service has been widely praised. Over the years, the hotel has won 'Top Ten Tourism Star-rated Hotels in Anhui Province', 'Integrity-quality Star-rated Hotels', 'Chinese Brand Hotels', 'Changqing Historical Classic Hotels', 'Excellent Star-rated Hotels', and 'Gold Leaf Hotels 'Green Tourism Hotel' and many other honorary titles, and obtained excellent results in various evaluations of provinces, cities and scenic spots. 'Climbing the Huangshan Mountains and enjoying the wonderful scenery, living in the North Sea and enjoying the service of the state guests.'